1)

Disposable Laparotomy Pack Introduction:
A disposable laparotomy surgical pack is a sterile kit that is used during laparotomy procedures, which contains a variety of disposable instruments and supplies that are commonly used during a laparotomy procedure. such as laparotomy drape, gloves, wrap, surgical gown, etc. This type of surgical pack is designed to be used once and then disposed of, in order to reduce the risk of infection and contamination.
2)

Disposable Laparotomy Pack Characters:
-Laparotomy Drape: Easy to use, safe, Effectively block the penetration of liquid and bacteria to prevent cross-infection.
-Disposable sterile products can reduce the workload of repeated disinfection;
-Surgical gown: It has high protection and can prevent the penetration of blood, oil and alcohol.
-The accessories are complete to ensure the safety and integrity of the operation.
-Soft, lint free, light weight, compact moisture resistant, nonirritating, and static free.
-Gauze Ball: Stop bleeding, press and absorb fluid during surgery.

3)

Disposable Laparotomy Surgical Pack Configuration Table:
No.
Name
Specifications
Quantity
Material
1
Laparotomy Drape

Surgical drape
254/200×337cm
1
SMS+PE
2
Side drape (large)
153×200cm
2
Viscose+PE
3
Side drape (small)
75×90cm
4
Viscose+PE
4
Equipment cover
75×90cm
2
PE
5
Mayo cover
80×140cm
1
PE
6
Wrap
150×150cm
1
SMS+PE
7
Surgical gown
L(125×155cm)
3
SMS
All the specifications and contents can be customized
Material
SMS, SSMMS, PE+PP, PE+SMS, PE+Absorbent PP, Viscose +PE,etc.
Sterile
EO (Ethylene Oxide)
Package
Sterile Pouch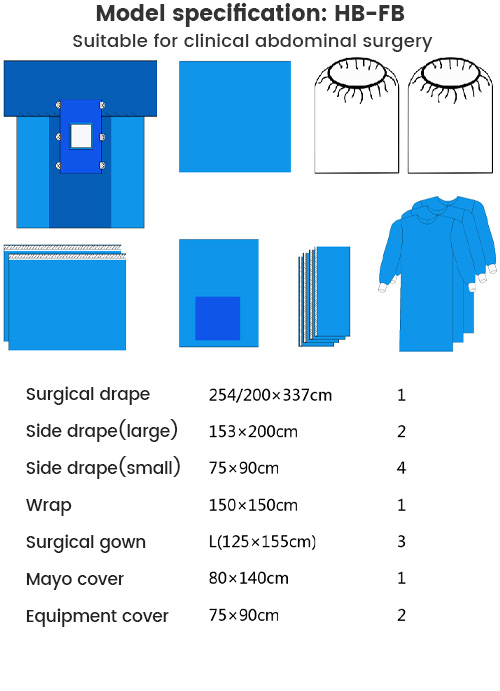 Other Informations:
Certification : ISO13485,ISO 9001,ISO14001, CE
Payment Method : T/T
Package Details : Carton/Stretch Film
Delivery time : 20-25 days after deposit
If you are finding disposable laparotomy pack, we will be your best choose! we have our own factory, so we can give you a cheap price! Contact us to discuss pricing and ordering details.