Introduction of Disposable C-section Pack
The main accessories of Disposable C-section Pack include C-section surgical drape , Mayo cover, large wrap, baby wrapping, treatment towel and tape. The C-section surgical drape is used to lay on the patient during C-section to form a sterile area for operation. It can prevent cross infection between medical staff and patients. Baby wrapping is used for wrapping babies; The treatment towel is used at the surgical incision and the covering on the surgical instruments.
Disposable C-section Packs are specially designed to contain everything surgical needed to perform Caesarean birth in Operating Room, They are packed sterile to save time and reduce the costs of operating room set-up. Due for its excellent quality, this packing for caesarean is very popular in various hospital.
Characters of Disposable C-section Pack
① Isolate the contaminated area from the work area, easy to use, safe, sterilized and pollution-free.
② The main material is PP+PE, which is resistant to fluid and microbial penetration.
③ Sterilization bag, disposable, light, soft, breathable,
④ There are different configurations for you to choose according to different operations.
⑤ Soft, lint-free, light weight, compact, moisture-proof, non-irritating and static-free.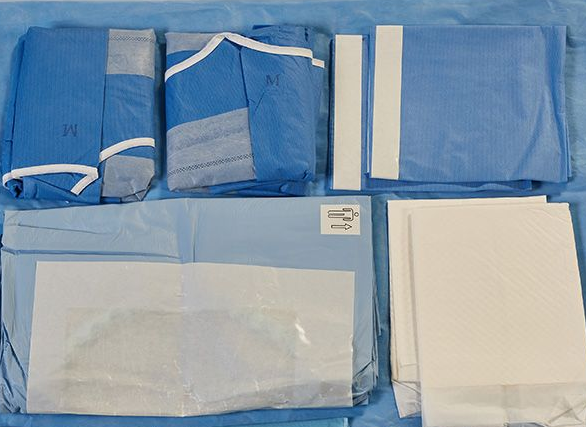 Click here for more details or to get a sample!
Configuration Table of Disposable C-section Pack
NO
Name
Specifications
Quantity
Material
1
Surgical drape
180×310cm
1
SMS+PE
2
Side drape
75×90cm
4
Viscose+PE
3
Baby Wrap
150×150cm
1
SMS+PE
4
Table cover
150×190cm
1
SMS+PE
5
Surgical Gown
L(125×155cm)
3
SMS
6
Nursing napkin
45×60cm
2
Absorbent PP+PE
7
Maternity pad
60×60cm
2
Absorbent PP+PE
8
Gauze piece
10×10×8Pcm
10


All the specifications and contents can be customized
Material
SMS, SSMMS, PE+PP, PE+SMS, PE+Absorbent PP, Viscose +PE,etc.
Sterile
EO (Ethylene Oxide)
Package
Sterile Pouch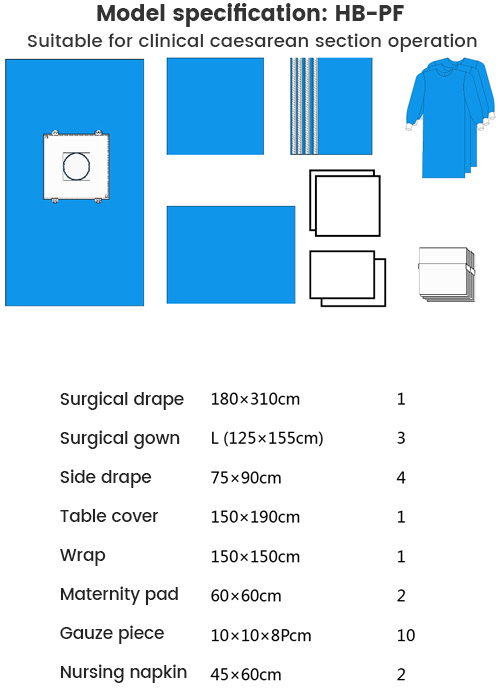 Besides Disposable Caesarean Section Pack, we also have have a wide range of other surgical kits such as Disposable Eye Pack,Disposable Urology Pack, Disposable Laparotomy Pack,ect.
Our advantage:
1. Rich production experience: HUABAO was established in 1959 and has more than 60 years of advanced production experience. It is one of the professional manufacturers of domestic production of first-class and second-class medical device products, PE cast film, PE cast composite film and medical consumables. one.
2. Complete certification: the company and its products have the German record certificate, the Netherlands record certificate, the Canadian record certificate, the United States record certificate, the British record certificate, the medical device CE certificate, the SGS PPE Module B Module C, the EU CE medical device product certification, and medical devices. Production license; has passed nearly 100 certifications such as the US FDA factory inspection, the German TUV Rheinland audit, the China Quality Certification Center CQC audit, the US WCA human rights factory inspection, and the US Sedex human rights factory inspection, etc. The products are reliable.
3. Reliable strength: We have introduced international advanced production equipment and production technology. The total area of the purification workshop is 15,000 square meters; The clean area of the 100,000-level purification workshop and the 10,000-level purification room is 6,000 square meters, and the production capacity is guaranteed.