1)

Ophthalmic Surgical Pack Introduction:
The disposable ophthalmic surgery bag is used for eye surgery, which can meet the needs of eye surgery such as laser, cataract and glaucoma. The medical film is designed in one piece to establish a sterile barrier. It is equipped with surgical clothes, gauze piece and other accessories, which fully meet the needs of clinical use.
2)

Disposable Eye Surgical Pack Characters:
① Easy to use, safe, sterilization without pollution.
② The main material is PP+PE, which is resistant to liquid penetration.
③ Sterilization package, disposable.
④ There are different configurations according to different operations.
Contact us to discuss pricing and ordering details.
3)

Disposable Eye Surgical Pack Configuration Table:
No.
Name
Specifications
Quantity
Material
1
Surgical drape
115×150cm
1
SMS+PE
2
Bed sheet
100×100cm
2
Absorbent PP+PE
3
Wrap
150×150cm
1
SMS+PE
4
Table cover
150×190cm
1
SMS+PE
5
Surgical Gown
L(125×155cm)
3
SMS
6
Gauze piece
10×10×8Pcm
10


All the specifications and contents can be customized
Material
SMS, SSMMS, PE+PP, PE+SMS, PE+Absorbent PP, Viscose +PE,etc.
Sterile
EO (Ethylene Oxide)
Package
Sterile Pouch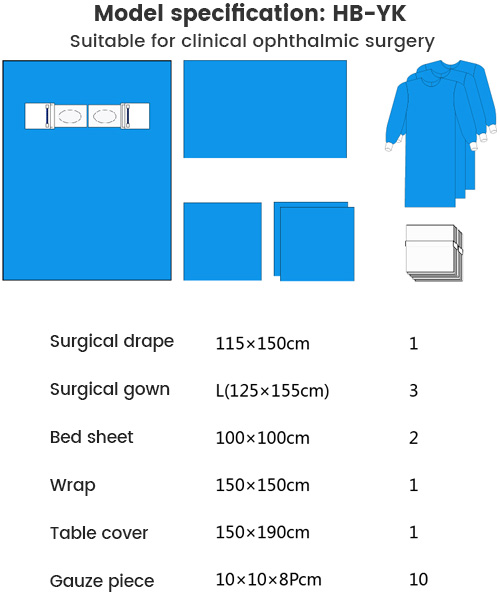 Besides Disposable Eye Surgical Pack, we also have a wide variety of other medical products, you can click here to learn more about our products.