1)Product Introduction:
The Clinical pack is specially designed for various general types of operations in the operating room. Aseptic packaging was used to save time and reduce the cost of setting the operating room, and the clinical accuracy was also reviewed by medical staff. Each disposable sterile surgical kit generally includes an instrument cover, an equipment cover, 2 surgical gowns, a surgical drape, an operation sheet, etc
2) Disposable Clinical Pack Characters:
① Easy to use, safe, sterilization without pollution.
② The main material is PP+PE, which is resistant to liquid penetration
③ Sterilization package, disposable
④ There are different configurations according to different operations.
You are welcome to consult us at any time for quotation and cooperation details!

3) Configuration Table:
No.
Name
Specifications
Quantity
Material
1
Surgical drape
254/200×337cm
1
SMS+PE
2
Bed sheet
100×100cm
1
Viscose+PE
3
Side drape
75×90cm
4
Viscose+PE
4
Mayo cover
80×140cm
1
SMS+PE
5
Table cover
150×190cm
1
SMS+PE
6
Wrap
150×150cm
1
SMS+PE
7
Surgical gown
XL(135×160cm)
2
SMS
8
Equipment cover
75×90cm
1
SMS+PE
9
Nursing napkin
45×60cm
1
Absorbent PP+PE
10
Gauze piece
10×10×8Pcm
10


11
Surgical towel
10×10×8Pcmwith 4PX
2


12
Bandage
10×600cm
1


13
Surgical gloves
7.5
Width 95mm
2
Rubber
Minimum length 270mm
Minimum thickness 0.1mm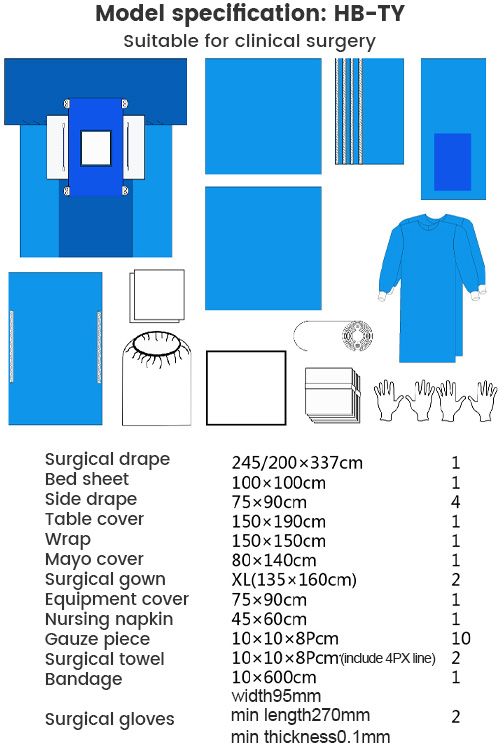 FAQ
Where can Disposable Clinical Pack be used?

Surgery and operation room.

Can you provide free samples?

Yes

How about of our production of Disposable Clinical Pack Capacity?

1200 tons/year

What payment methods do we support?

T/T
Company strength:
Xinle Huabao Medical Equipment Co., Ltd. covers an area of 100,000 square meters, of which the purification workshop area is 15,000 square meters; the 100,000-level purification workshop and the 10,000-level purification room clean area.

Our factories are certified: ISO9001 Certificate, ISO 13485 Certificate, ISO14001 Certificate, DD-60145760-0001-CE Certificate

Company slogan: Xinle Huabao, create a national brand, and share with the world.

To ensure the highest level of protection for patients and surgical teams, our team conducts testing on the full range of products beyond what is required to meet the Medical Device Directive.