Hooded Protective Coverall Introduction:

This hooded protective coverall is applicable to Type 6 of European standard. It is made of SMS material and wrapped inside the flat car. It is used to protect non-toxic and harmless liquids, low hazardous liquids and light splashing chemicals.
Hooded Protective Coverall Feature:
Hooded Protective Coverall is more comfortable and breathable, it can provide protection against of liquid chemical.
-Tape packed at sewing line, it can improve protection and strength.
1. Three-piece hood tape
2. Elastic face opening
3. Inner leg seam tape
4. Elastic waist tape
5. Elastic cuffs and ankles
6. Outer buckle placket tape
7. Double zipper flaps
8. Double-sided tape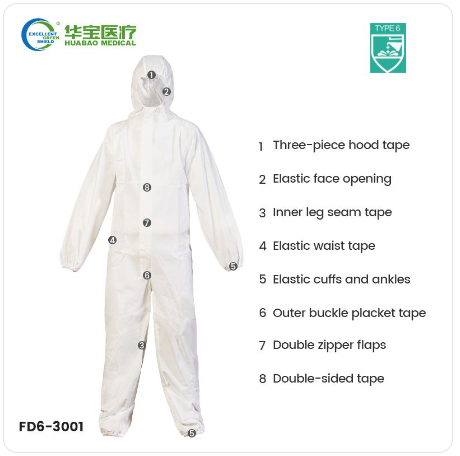 Contact us today for more information on our products or services, to request a quote or to schedule a delivery.
Product Specification:

Name: FD6-3001 Hooded Protective Coverall
NO.: S, M, L, XL, XXL, XXXL
Material: SMMS
Process: sewing
Application of Hooded Protective Coverall:
Effective protection against low level chemical liquid splashing
General maintenance and cleaning
Other general industrial operations, etc
Product meet the standards as below:
Type 6:13034:2005+A1:2009(Type 6)
CHEMICAL TEST
CHEMICAL
PROPERTY
STANDARD
RESULT
30% H2SO4
Repellency by Liquids
EN ISO6530:2005
Class 3
30% HCI
Repellency by Liquids
EN ISO6530:2005
Class 3
10% NaOH
Repellency by Liquids
EN ISO6530:2005
Class 3

FABRIC PROPERTY TEST
PROPERTY
STANDARD
RESULT
Abrasion
EN ISO 12947-2:2016
Class 2
Trapezoidal Tear resistance
EN ISO 9073-4:1997
Class 2
Tensile strength
EN ISO 13934-1:2013
Class 2
Puncture resistance
EN 863:1995
Class 2
Seam strength
EN ISO 13935-2:2014
Class 1