Introduction of Medical Protective Coverall
Disposable medical protective coveralls are applicable to GB19082 and EN14126+Type 5b+Type 6B. It can provide barrier and protection for clinical medical personnel to contact with potentially infectious patients' blood, body fluids, secretions, particles in the air, etc. the product is made of microporous PE film and high Anti-static non-woven composite materials, with soft hand feeling, comfortable and breathable wearing. The zipper access control and sticker design improve the tightness and increase the protective performance, provide strong guarantee for medical workers and epidemic prevention and control personnel.
Medical Protective Coverall for medical use protects healthcare workers and their patients from high-risk infectious diseases as well as blood, body fluids and blood-borne pathogens. Our Medical Protective Coverall is wearer-oriented, striving for comfort and breathability without sacrificing protection.
Characters of Medical Coverall
1. Breathable, comfortable, better wearing experience.
2. Zipper placket design, good sealing effect and higher protection performance.
4. With thumb, good fixation effect, more convenient to wear.
5. After a number of performance tests, with a number of certification certificates, product quality assurance.
6. Recommended for: Avoid contact with body fluids, bacteria, chemicals and harmful substances.
You can always contact us for samples to understand our products more intuitively!
FABRIC PROPERTY TEST
PROPERTY
STANDARD
RESULT
Abrasion
EN ISO 12947-2:2016
Class 1
Flex cracking resistance
EN ISO 7854:1997
Class 6
Trapezoidal Tear resistance
EN ISO 9073-4:1997
Class 2
Tensile strength
EN ISO 13934-1:2013
Class 1
Puncture resistance
EN 863:1995
Class 1
Seam strength
EN ISO 13935-2:2014
Class 3

CHEMICAL TEST
CHEMICAL
PROPERTY
STANDARD
RESULT
30% H2SO4
Resistance to Permeation of Chemical
EN ISO6530:2005
Class 3
Repellency by Liquids
Class 3
30% HCI
Resistance to Permeation of Chemical
Class 3
Repellency by Liquids
Class 3
10% NaOH
Resistance to Permeation of Chemical
Class 3
Repellency by Liquids
Class 3
Resistance Ignition
EN13274-4:2001
Pass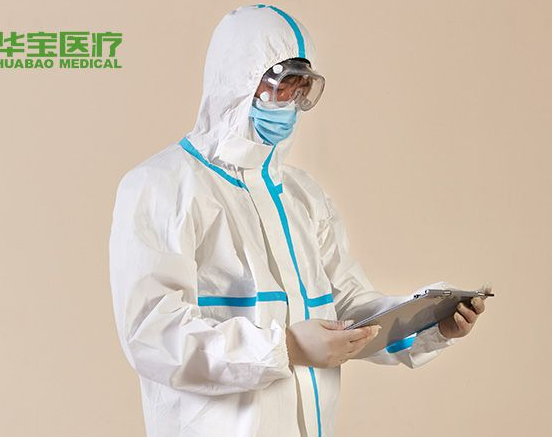 Precautions of Medical Protective Coverall
1. The medical coverall is a one-time product, and repeated use is prohibited
2. Check the integrity of the packaging before use. Do not use if packaging is damaged.
3. The product is a sterile product and cannot be used again in a sterile environment after being opened in a sterile environment.
4. After the product is used, it should be disposed of in accordance with the requirements of medical waste management regulations.
Want to learn more about medical products such as protective clothing or isolation gowns? Please click here or ask us directly!